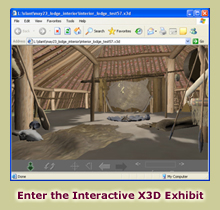 ON-A-SLANT VIRTUAL VILLAGE: INTERACTIVE X3D
A SOCIAL SCIENCE EDUCATION PROJECT
NDSU <!a href="http://atl.ndsu.edu/home/">Archaeology Technologies Laboratory<!/a> (ATL) is a member of the NDSU Worldwide Web Instructional Committee (WWWIC) that investigates innovating ways of teaching science through the use of role-playing in virtual environments. WWWIC has recently been awarded a grant by the National Science Foundation's Instructional Materials Development (IMD) program to develop Instructional Materials for Teaching Science Through Virtual Environments.
As a participant of the WWWIC IMD project, the ATL has begun development of a social science based virtual environment for instructing students on the cultural interactions of Native peoples who lived in the upper great plains region of the United States just prior to the arrival of the Lewis and Clark - Corp of Discovery Expedition. Much of the sedentary village environment is based upon our previous virtual village work. While not yet fully implemented, we are making part of the On-A-Slant Interactive X3D environment available for preview.
Current preview files include:
Exterior Village Scene - walk the village and listen to the last fluent native Mandan speaker tell a story. Enter one of the smaller lodges by walking in to its entry way and clicking on the leather door cover.

Interior Scene of a Mandan Earth Lodge - Once you enter the earth lodge, click on the red sphere in front of the door for an audio description of the lodge. Switch to "Viewpoint 1" for the audio coordinated camera animation. To leave the lodge, walk over to the entry way and click on the leather door covering.
What you will need:
The On-A-Slant Interactive X3D environments are created using Alias' Maya Unlimited - animation and visual effects software, and the RawKee open-source X3D plug-in for Maya. Maya was provided to the Archaeology Technologies Laboratory and WWWIC as a generous software donation from the Alias Research Donation Program. RawKee a product of an open source project coordinated by the Archaeology Technologies Laboratory with input from its corporate technology partners.
The X3D Specification is a ISO standard for Web-based 3D communication. It is developed by the Web3D Consortium.